Fundraising
Paddle and Puddle
The 100 mile Paddle for Tanzania fundraising expedition was completed in 2007 by Martin and Philippa Grosvenor, Mark and Ben Simmons and Dave Lamdin who canoed the River Wye over a three day period in June. Here's an account of the trip:
The river was already flowing fast where we started at the foot of the Black Mountains on the Wales-England border. At first the river was shallow in places and the canoes had to be hauled over shingle banks when they grounded. The depth and flow increased as the river became swollen by the heavy rainfall we suffered in the afternoons. A heavy thunderstorm on the first day occurred as we negotiated our first rapids and by the end of it we needed to bail the water out. The torrential rain was repeated the following day but the weather was reasonable after that.
After taking advice from local guides we decided to finish before Chepstow, due to the high tidal flow which made the river dangerous. The Symonds Yat rapids were the most challenging and we measured an incredible speed of 16.5 km/hr as we ripped down the swollen river. The wildlife was fascinating with numerous herons, grebes, cormorants, swans (43 in one colony) and one huge salmon. Physically it was less tiring than we expected and, despite long days, we all felt that we were some way from our limits of endurance. Perhaps a more challenging trip will be run next year. Any takers?
Was it worth the effort? Certainly, and in so many ways, especially as the purpose of the expedition was to raise money for the Tuishime Nursery and Primary School in Arusha, Tanzania. Our target had been £2000 but we reached a fantastic £4000. Due to the low living costs in Tanzania, the amount raised will go a huge way to improving the quality of education at the school. We will also use some of the extra to make a donation to a medical doctor who works amongst HIV/AIDS patients.
South Downs Way Bike Ride
A 100 mile and 3500 metres of ascent bike ride, along the route of the South Downs Way, was successfully completed in June 2010 during a single day by Martin Grosvenor and Andrew Weighill, just a few weeks before Andrew's wedding. Here's an account of the endurance event.
Martin had intended to cycle the route in 2009 but pulled out of it three months beforehand as he realised that his level of training was inadequate. However, that summer he cycled the route in 2 days and knew that with extra training he should be able to complete it in a single day. After recruiting a soon-to-be family member to accompany him on the ride, training started in earnest during March. Andrew, who is a very keen cyclist, and Martin took training seriously and both completed many 50+ mile hilly rides before they felt their fitness was high enough for the challenge.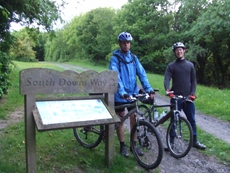 We started the ride at 5am and made steady progress during the morning along good tracks and on the road sections. However, the hills were steeper than we remembered and our rate of progress was slower than estimated. Martin wasn't able to eat sufficient food during the morning and by 11am he was suffering an acute energy lack. Such were the depths of his blood sugar that he started to behave in a bizarre way spraying lubricant onto his brake discs. Fortunately he managed to eat enough pasta to kick start his body into recovering its appetite and the show was back on the road.
We were joined by two friends who cycled with us for about 6 hours and were regularly fed and watered by our support team of family members. Without this encouragement it would have been a lot harder. The
afternoon session progressed steadily but by the evening, the hills had become a major challenge and on occasions we even had to push our bikes up them. As we got closer to the coast at Eastbourne the sea came into view and the evening light made the scenery look stunning. Somehow we kept going and finished the ride just as it was getting dark at 10pm, about three hours later than we had estimated. Mechanically the bikes were faultless and the weather had been kind to us. But it was a tough day, probably one of the toughest we had faced although Andrew later that summer went on to cycle over 300 miles in a day. Respect!
We raised £1500 for Hope for Tanzania and the money was used for the Send a Computer Scheme - see Projects section. Our tiredness didn't last long but the benefits that these donations will bring will endure for a much longer time. We are very thankful to all those who supported us in this adventure.
Duffield Carnival 2011
We had a great time at the Duffield carnival. We used our stall to showcase the work that we are involved with in Tanzania. We displayed photographs of the school, clinic and sponsored students. We ran a quiz about Tanzania with a candy bar for anyone completing it. We showed people how to carry a bucket on their heads (as African women and children do to carry water in rural areas) and then gave people an opportunity to "have a go". We had many conversations with interested people, gave out literature and talked about our plans to send computers to schools in Arusha. We all enjoyed the afternoon, the weather was reasonable and it was just great to talk about the opportunities we've had to help others. Here are a few photographs of the stall...
Duffield Carnival 2012
We focussed on our Sponsor a Child Scheme talking to many people about the challenges of being a school child in a very poor country. We also gave people a taste sampler of cooked beans which is one of the staple meals in Tanzania. It is made using beans, tomatoes, onions, coconut and carrots and, even in UK, it was appreciated. Martin had built sturdy wooden steps 0.5m high for the Climb Kili challenge. The idea was to climb as high up the mountain as people had time and energy for during the afternoon. Over the course of the carnival day a combined total of 2300m was climbed but we were still well short of the summit having just entered the alpine zone. However, achieving the roof of Africa was not the point but rather the opportunities it gave us to talk to people about the work we are involved with in Tanzania. Andrew Mathias, one of the teachers from Tuishime, was with us and was a wonderful magnet to attract people to the stall. We all enjoyed the afternoon although the weather was very windy - but then we were high up on a major mountain!. Here are a few photographs of our activities...

Concert 2013
Hope for Tanzania, in conjunction with the Duffield Singers, held a charity fundraising concert on Saturday 28th September in Duffield. It was a splendid evening with high quality singing which was enjoyed by all. We provided light refreshments of home baked food, including Tanzanian beans, and spoke about the work in Tanzania. We raised £650 which helped fund a water borehole at Tuishime School. Our resident cameraman Roger shot a short film.
During the evening Martin gave a short presentation of current interests in Tanzania.
Visit the website of Duffield Singers www.duffieldsingers.org for information about their musical flavour and other forthcoming events.
Read more articles about our fundraising events in our Articles section.