Get involved overseas
There are many ways to help overseas. If you'd like to get involved in any way, please contact us at info@hopefortanzania.org.
Tuishime School
We have opportunities for:
Teaching by qualified primary school teachers (particularly in English, sports, and science) to teach for period from a few weeks to a year. Term dates are broadly similar to those in the UK.
Training and mentoring of school teachers.
English teaching by TEFL trained teachers.
Enthusiastic people with an interest and ability in: reading storybooks with pupils, English conversation, art and design, teaching and playing games, telling Bible stories in drama, computer training of teachers.
Building, decorating and carpentry jobs.
Working in orphanages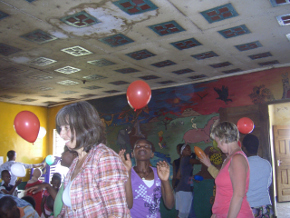 We are in contact with a number of orphanages in Arusha that always need financial support. They are looking for volunteers to work with Tanzanian staff in helping and loving the children in their care. Energy, a cheerful nature and the ability to cope with potentially distressing situations are some of the qualities we are looking for in volunteers.
Teaching English to adults
You may be a TEFL qualified teacher or just have a lot of patience to teach English. If so, then there are opportunities to teach students and adults wanting to improve their grasp of the English language to help their prospects in education and business.
Gap Year opportunities
If you are taking a year off after leaving school or University or taking a career break, then why not consider coming to Tanzania to help the country. You could teach, work with children or church youth groups or help in building projects.
Microfinance and Microbusiness
It is difficult for individuals or small communities to borrow money from banks in Tanzania. Microfinance schemes have proved highly successful in helping people to start small businesses. We have an experienced administrator for such a scheme, once we have the funds in place. We are looking for individuals able to donate money to build up a fund (target £10,000) to make micro-loans. Once started the small businesses would benefit from business advice.
Church Work
If you have gifts in preaching and Bible teaching or working with young people then the numerous churches in the area will warmly welcome you.
Developing the Tuishime School as a Community Resource
Having invested so much in the school buildings and facilities we are keen for the community to use the classrooms when the school is closed. This is a project at the planning stage so we are keen to hear from people with ideas in this area and energy to put them into action. Possible ideas are teaching computing, business skills, English conversation.
If you are able to help and would like to find out more, email us at info@hopefortanzania.org.