Grace Mbise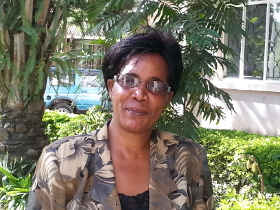 I first met Grace Mbise in 2009 and since on a number of other occasions. Hope for Tanzania has provided partial financial support to her since then. Grace is an extraordinary women who has been used greatly by God in missions throughout Africa and in the USA. She has written a book entitled "The mighty acts of God" which is quite simply amazing as many of the same miracles and happenings in the Bible have been experienced during her life and ministry. We should not be surprised since God is the same, yesterday, today and forever.
In 2014 she preached at about 30 crusades, 6 seminars, and 3 conferences in Tanzania, Kenya and Uganda. More than 5200 people were reached and 2008 people were changed and saved. About 22 witches who used to torch other people gave their lives to Jesus. About Healing and deliverance, Many people were delivered from evil spirits and healed in Jesus name from illnesses like cancer, paralysis, blindness and tumours. Grace is an evangelist through and through.
Grace's vision for her work in 2015 is to preach in unreached places as she feels that the towns and cities are saturated with preachers and churches. As these unreached places are remote, such a vision will need practicalities such as transport which includes living accommodation, means to play music and show Christian films. My suggestion was to fit a truck out with a sleeping cabin, so that she and her helpers could sleep, cook and wash, and an area from which she could present the gospel using different communication methods. The feasibility and cost of this is being investigated.
I have deep respect for Grace and know that God has done a deeper work in her than in anyone else I have met. She has many stories to tell, some of which are so out of my experience that they are almost unbelievable. She is deeply aware of the spiritual battle she is in and has many experiences which cannot be explained other than her being exposed to strong satanic attack. But her faith is strong and God uses her to demonstrate his power.
Hope for Tanzania will continue to support her as an evangelist. Click here if you would like to support this work.